.
It's the thought that counts
Tibe2 je nak update blog. Tibe2 je taw? :p
Talked to Syikin on fb and she told that she's been reading my blog. Errr. Apa yang ko bace Syikin??? Lama gila bersawang habuk semua.
I have to tell this. I adopted two fur kids last 2 weeks, named Rara and Ijok. Apparently, Rara is a male which the vet mistaken her gender the 1st time I took them to vet. Vets nowadays... sigh~ Might as well change his name later name. Been calling her Babe since then. LOL
I got these two fur kids from Kak Amal, she gave me 3 actually, but I have to let go the other one which is super adorable to a friend. I know and hope she would take care of her better. The thing is, the condition of these 2 kittens are not normal. They were infected by fungus??? I don't know, 2 different doctors diagnosed them with different skin diseases. But on personal thought, I would say it is fungus. Let's just pray they'll get well very soon. :) Been giving them medications and supplements .
This week is the last week of classes before it is midterm break. *happyface* But within this week jugak lah banyak test gila babs. *nangisbalik* Physio is not easy I must say. Why is it not one of the critical courses in Malaysia eh???
I have test tomorrow on paraphrasing which I suck. :( just pray for the best. Aamiinnn.
Till then,
Tengah addicted dengan lagu ni. Kbai
Study week break. :)
Hi semua! Feeling ada readers walhal....(ko mampoo?) Hahaha. It has been a long time. Final exams are reaching near *takut* and so does 2012. I am excited to look forward to what 2012 will bring to us. :)

My first paper is Electro Modalities which is kind of tough and easy. It is in between. You have to remember facts and that's just it. Unlike Kinesiology, you have to think and imagine things. Like, what happens to your scapula when you perform shoulder flexion? ERRRR, takut gila okayyyy!

Went to funfair near the stadium. It was a fun ride. Not to mention how loud we screamed.
Quick Update.
Just a quick update. Don't feel like writing but I need to express what's inside. Been busy the whole month. Kelas ganti sana sini. Aduuuhh, ANEH. Let alone those assignments.
Am going to pick up my Wonder World album shipped from Korea this Sunday. Yeayyy! The new album is DAEBAK. Illegally downloaded from 4shared to listen inside the car while waiting for the album to arrive. SHHHH. hehehehe! G.N.O , Be My Baby and Girls Girls from the album really stuck inside the head. What to dooo??? aduhhh~
Checklist.
(/)
JPA.
( )
PTPTN.
(/)
Medical checkup.
( )
Cuci gambar.
(/)
Isi borang.
( )
Mentally prepared.
Out of the 6 tasks I should complete, I have only 3 done. Still got half way to go. :( Malasnyaaaaa. ~
Oh ya, hari ini berbuka, nasi tak habis dalam pinggan. Adakah satu pencapaian hebat? Tak, sebab membazir, bagi kucing makan ja :)
◄ Older posts
who cares;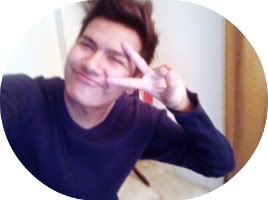 FOLLOW THIS BLOG!!


Hello I'm Irfan, 20, standing at 1.7m tall. Pretty random (I do what I want >:]) more?
Tell me!
They're SO HOT
Average Jane
Syafiq
The Fuschia
Colour Lovers
The Brick House
Apartment Therapy
Oppa
who made you king of anything?