.
1st january of 2008
uiks... 2008 finally came... goodbye 2007~!! my new resolutions?? hmmm... definitely i want to study harder.. i want to prove to everyone that i can do wat everyone else can do... there's no impossibility for that... hmm... i really miss my pren*naim* who has to go for plkn.. plkn is damn shit!!!as the saying goes.."FRIENDSHIP IS LIKE DIAMONDS, PRECIOUS BUT RARE!! fortunately i dont have to go there... fuhhh!!! bla3.... i dunno wat to say anymore...
maybe am just feeling so bored since i have nothing to do at home... thinking of working as waiter anywhere.. living at home for another 6 months cud kill me!!! i hope that you are not the same as me.. i noe dat each of you have ur own plan... wawa!! thanx for ur advise for me to make this blog... i find it very interesting etceli... excet for.. its really tiring for me to type each word here.. i wonder if i cud just say wat i want and the words will appear on this screen just as wat said... hehe.. demanding!!! omg!!! i am not going to put myself 99% on love this time.. its enuf for me to be rejected once.. no more rejecting from anyone.. thats my promise!!! heheh... bored laaa... not in da mood of writing.. guess of stopping now.. so, maybe my blog is not as interesting as others. but at least u'll get to noe myself a lil bit... hihihi chao
Labels: frankly written by earfun
Newer posts ►
who cares;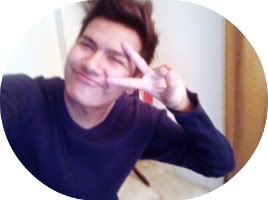 FOLLOW THIS BLOG!!


Hello I'm Irfan, 20, standing at 1.7m tall. Pretty random (I do what I want >:]) more?
Tell me!
They're SO HOT
Average Jane
Syafiq
The Fuschia
Colour Lovers
The Brick House
Apartment Therapy
Oppa
who made you king of anything?