.
another day...
waduh2!!! guess wat?? i woke up at 3PM!!.. hehee.. for me its normal... hmm.. to make it worse, i took my bath at 4pm... dat is actually after my favourite telenovela 'tropico' had commercial.. huh.. (english sucks) hehe.. watever.. currently i am watching a thai movie wif mom.. "path of life" in siamese i dunno how to translate lorr.... heh.. the movie is quite interesting.. but usually movies that i watched basically based on theme of love... huh.. bored sumtimes.... today i got my frenster comment from my former hroom brother, kong.. huh.. kinda painful his words... he tease me for failing in jpj test.. i mean da computer test. kinda shame of dat.. however, sory bro!!! i promise i'll try harder next time n sleep earlier dat day.. only dat day ha... hmm.. dunno wat to say anymore...
maybe i'll continue writing my blog tonite perhaps..
huhu.. papai
Labels: frankly written by earfun
◄ Older posts
Newer posts ►
who cares;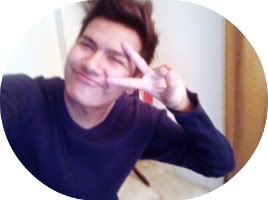 FOLLOW THIS BLOG!!


Hello I'm Irfan, 20, standing at 1.7m tall. Pretty random (I do what I want >:]) more?
Tell me!
They're SO HOT
Average Jane
Syafiq
The Fuschia
Colour Lovers
The Brick House
Apartment Therapy
Oppa
who made you king of anything?