.
nqb damn shit or nqb's life sucks??? pick one...

hihihi... i really getting excited writing blog guys.. dunno why but it really had captured my sacred heart.. huahuahuaha... now, i am going to talk about one of my bestest buddy, Nqb.. or mostly known as ciken or org tua... da nick 'ciken' was not given by us but it was actually sir azanor's idea.. i dunno where he got the ideas of calling him with dat name.. but i found dat the name suits nqb.. and da nick 'org tua' was actually encountered by faiz a.k.a JANDA.. hehehe... 4 ur information, nqb is always da one who started calling people with not using their real name... example: arep... he called arep "bel**"(u noe it nqb.. hehe) bcuz arep love to dance and and call himself pcd.. and again, we(nqb, adzle, asyraf,tok kura,pakya,syafiq n especially me) neva named ourselves with pcd.. all da ideas were started from arep.. as the malay saying goes" kerana nila setitik rosak susu sebelanga" hahahha... dun get mad ya arep.. hmmm... ok, b4 i change my topic, i would like to further on talking bout my pren nqb...

i'll start writing his profile first k?? his real name is mohd naqib b ahmad.. staying in BELANGA BAY, kola nerang aloq staq.. huhu... b4 he entered mjsc bee~ he was a student of smk dato syed ahmad ( i cant really remember da skul name).. he was actually one of da best studnt there.. but da thing dat make my mind pop out a question.. WHY HE CANNOT MANTAIN HIMSELF AS B4 HE ENTERED MJSC BEE~? hmmm... perhaps homesick.. enuf for da formal one..

i want to start telling u guys bout his daily life n how he influence mylife.... hmm.. nqb is an easy-going person.. he's not a 'cerewet' boy.. but sometimes he acts saikoly...heh.. we share lots of thing together.. uiks.. nqb, if u are reading dis..i want you to know dat really dont want to go to mjsc yt besut tuh.. but, thinking dat u had always been there for me, i follow u... hehe..
etceli, dunno wat to tell laa... too many to be written..cannot be described by words.. only u, me n god know... lets keep dis frenship forever!!!!!i'll never forget da moment we skip 'morning kol' together n how we always quarrel wif our beloved warden en. basit.. hik.. aloklok asiit!!! forget me neva... a fren in need is a fren indeed (btol ke nie?)n as din busur said to me..
friendship is lke pee in the pants, everyone can see it, but only u cal feel its true warmth...
p/s kesian ang tggu blog nie.. aku sja wat saspens jek.. aku edit skit.. dgn petolongn wawa edit error... huhu...

Labels: frankly written by earfun
◄ Older posts
Newer posts ►
who cares;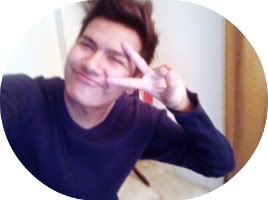 FOLLOW THIS BLOG!!


Hello I'm Irfan, 20, standing at 1.7m tall. Pretty random (I do what I want >:]) more?
Tell me!
They're SO HOT
Average Jane
Syafiq
The Fuschia
Colour Lovers
The Brick House
Apartment Therapy
Oppa
who made you king of anything?