.
i like mylife to be this way...
seems like i haven't write anything on blog lately.. it was all a copy paste typed of post...hik3.
it's not that i dont want to write, but i had nothing to write... hik3...
dun be mad.. i am sure some of u who visited my blog didnt read my post at all...
so, i think, why shud i write something which everyone are not interested to read... so i think of something and actually, i want to write something that i feel today...
yesterday, my brother finally returned home since his last day being at home which is on the last december i guess..
( who cares???)
and yet i had to experience the thing which i never experienced before...
( berebut2 laptop)
adeii... sometimes mmg best rebut2 nie.. but sometimes it is not fun to do the rebut2 thing... i mean, it is like uncivilised humans behaviours... huhu... but i do like those things.. and today, we had a small fight...
( me and bro la)
.. both of us, we did ran like freaks to upstairs
( my room of course)
to see who was the first one to reach my very beautiful yet canggihnyer laptop nie... haahhaa
*bragging*
in a nut shell, what i can tell about my life today is : "saya suka hidup cr org yg bertamadun ini"
*peace*
.. abg wan, if u are reading this, come home often so we can have the brotherly typed of competiton ok?? *wink*
◄ Older posts
Newer posts ►
who cares;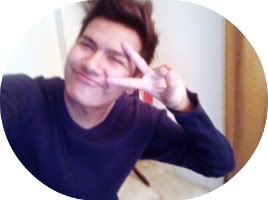 FOLLOW THIS BLOG!!


Hello I'm Irfan, 20, standing at 1.7m tall. Pretty random (I do what I want >:]) more?
Tell me!
They're SO HOT
Average Jane
Syafiq
The Fuschia
Colour Lovers
The Brick House
Apartment Therapy
Oppa
who made you king of anything?