.
i'm out of limit!!
hurmm... guessing why i pick da above title?? hmm.. simple answer.. yes,
im out of limit
.. da situation is what will u do if someone disturb u days n nites without telling u who is him/her??
im sure some of u'll get out of limit as mine but neither sme of u will just ignore that person.. but not 4 me.. today finally he answered my sms.. but still, he's not telling his true identity.. instead, he replied me with" nie tny lek lok ke tengking nie?" ok, maybe i was being too rude for him/her.. then, i replied.. "nie dh abis baik aftr ko wat cmnie kt aku.. ko nie sape?" i sent dis msg to dat person.. but noe wat?? he replied me "hmm.. still rude.. maleh nk gtaw sape.." huh,,, im so tired of playing riddles.. i aint a patient typed of person .. sometimes perhaps.. but not always!!! dun want to talk more on dis.. its a waste of time.. but im really frustrated without knowing who him/her really is while he knows me... to that person who always ruine my life..i mean currently.. one advise 4 u.. dun do dis to other person. anyone can become angry-dat is easy but to be angry wif da rite person, to da rite degree, at the rite time for the rite purpose and in da rite way.. huh, dat's definitely not an easy task buddy.. u dun noe what will they do to ur num as i did.. hahaha... b4 i might posted bulletin to noe who u really are but now.. no, thanx... u are not much different as a poser..
(as dibah lala said.. POSER BLEYH BLAH!!! MASEYH YA??)
Labels: frankly written by earfun
◄ Older posts
Newer posts ►
who cares;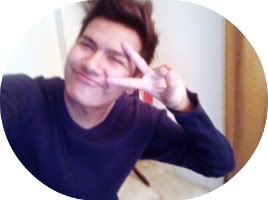 FOLLOW THIS BLOG!!


Hello I'm Irfan, 20, standing at 1.7m tall. Pretty random (I do what I want >:]) more?
Tell me!
They're SO HOT
Average Jane
Syafiq
The Fuschia
Colour Lovers
The Brick House
Apartment Therapy
Oppa
who made you king of anything?