.
paper qualification... Does it Matter??
i have a passion- to speak my mind on whateva issues dat bother me. today, da issue dat weighs heavily on my 17 year old brain is this "
Paper Qualification.. Does it Matter??
"i am a rebel, especially after da stress from parents, teachers and frens to excel academically. i did some soul-searching and let me convince u... huhu...
just recently, da whole nation was amazed at da extra ordinary performance of Nur Amalina in her SPM-17A1s..she was glorified
(ade ke word nie)
by Malaysians from all walks of life.. she became a household name.. yeah.. u wont believe it, my mum had even put up a newspaper cutting of her in my room replacing my idol-kelly clarkson!!... hahahhaah...well, this is a typical example of how success is recognised and appreciated in our society.. huhu.. everyone loves winner. we shun failures. failure is unspeakable.. there is no place for failure in our society... huh.. the pertinent question here is... what happens to those ho do not make da good grades at skul?? (same nasib la...)
in my opinion, good grades in skul alone does not guarantee your success.. i see around me, hundreds of my frens working their tails off, for a good result juz because everyone believes, i stress believes gud grades leads to a better life.. huhu.. we are often being obsessed in dis silly game of trying to compete or resemble other people...( aku cmtu gak tp...) we have been programmed (mcm robot) to think, that failure is a deterent to success in life....
it looks like aku dh xlarat nk pikir lg.. thinking of doing research on tokoh2 di dunia.. wakakaka... aku semakin maju... yeah!!!!!!!
◄ Older posts
Newer posts ►
who cares;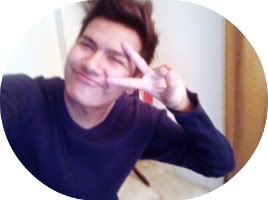 FOLLOW THIS BLOG!!


Hello I'm Irfan, 20, standing at 1.7m tall. Pretty random (I do what I want >:]) more?
Tell me!
They're SO HOT
Average Jane
Syafiq
The Fuschia
Colour Lovers
The Brick House
Apartment Therapy
Oppa
who made you king of anything?