.
refreshing my childhood memories...
Like wawa… I would liket to refresh my childhood memories.. it was quite interesting because we have to venture all these kind of experience growing up as human.. starting with my kindergarten.. I was not a talkative a person as the way I am now.. I used to be a quite shy kid during my childhood time.. I don't talk a lot..i mean… I used to keep myself away from people.. maybe it was because I could not get along into Chinese environment.. huhu.. I hardly could not understand mandarin at first.. so it was hard for me to blend with other Chinese girls and boys.. really not the moment to be remembered…
But then I entered sjkc kee chee… huh, here, I experienced everything … during my standard one.. I was placed in green class (classes were named after colors) .. huh,, we were asked to sit in group and not in couple typed of sitting like my secondary school did… haha… actually, I had few malay friends there, so, it wasn't hard for me to study there.. I had my friend, Syakir sit next to me.. he is the son of a pharmacist.. I know where his father's pharmacy is.. but never get discount… we always compete with each other.. but for sure.. I always win!!~ hahaha.. during my standard two, there was a Chinese sir teaching me malay.. huhu.. he was so nice to me.. even if I skipped the class, he would never scold me but he always asked to come to font and wrote for him.. lazy sir!! Hahah.. kidding.. ngeee!!~ but it was ok.. I enjoyed myself during his class.. and I could still remember a Chinese girl next to me.. I recognized her face but her name was totally forgotten… mei wei I guess.. huhu.. she was quite a mean girl.. she didn't talk to me well as other Chinese did.. but all that I could do is to ignore her.. we never talked.. hahaa… owh yeah, I didn't sit next to syakir because I was transferred to the first class while he second.. i do miss our agama class with ustazah… arr… forgot already.. haha… during my standard four.. my last year there.. actually I was quite happy when mom told me that I had to move to other school because she afraid my upsr would be affected.. so, I transferred to sk alor star.. here, I started to blend into malay schooling environment which I never experienced before… I sit next to nasrul hakim.. that guy was so mean la.. I didn't like him well.. but my other classmates were fine.. they tried being nice with me.. I do love them!!~ I was quite closed with my science teacher.. cikgu Hazlina.. she alwas bring food to me.. but there was one day when she, I don't know if she forgot or not, but she didn't invite me along to her makan2 class.. I was sad yet angry!!~ so, I refused to talk to her during her class.. hehehe.. she noticed my weird behaviour and tried to talk to me but I just wat2 xendah2 je.. (anak murid derhaka!!~) waaaaaaaaaaa!~… but who cares?? So during my break time, I could see her walking from the office to canteen, thinking of that she might be hungry that time, but no.. she came to me and asked me to go with her.. what a shock????!! I didn't expect her to come to me… and I never thought of baik2 ngan dia… so, we went to her lab, she asked me to sit… and as a student I cannot being rude to her… we talked and for sure there were lot of tears!! Hahah.. ley go la cta aku nie… malas2.. stop!!~..
Xmau la crita pnjg2… aku sedey… hhoo.. papai.. nnt crita pasai secondary school plak!!~
◄ Older posts
Newer posts ►
who cares;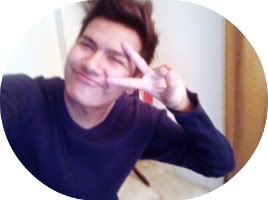 FOLLOW THIS BLOG!!


Hello I'm Irfan, 20, standing at 1.7m tall. Pretty random (I do what I want >:]) more?
Tell me!
They're SO HOT
Average Jane
Syafiq
The Fuschia
Colour Lovers
The Brick House
Apartment Therapy
Oppa
who made you king of anything?