.
trip to Thailnad~negara bebas cukai*
i woke unusually late today which is on 11.40pm.. huh.. actually we
( my family )
planned to go to Thailand today 4 shopping.. hehhe.. since brg2 kt sana murah + menyerupai jenama sebenar... so we first went to the nearest maybank because my brother wanted to withdraw his money.. i love it when he smiled after he went out of the bank..
( dapat bonus la tu)
hihi... means, we could buy almost everything without using own money... hahaha..
*evil*
as we arrived Danok
(sempadan Thailand)
we phoned my dad.. hehe.. dia taw suma jalan kt siam nie sbb kna naik pangkat keja kat sana jd Sarjan... but what made me mad was when my car reached the UPP check, they asked us to drove aside sbb nak siasat laa kot2 nk seludup pelancong asing.. aku phm muka aku mcm mat saleh, tp jangan sampai tara tu... hahaha...
so as we stepped our car on thai's land.. my dad brought us to a quite beautiful place to eat.. that place was so hard to be found since it was situated quite hulu... but however, it was nice... really.. tempat makan itu dikelilingi kolam yg indah... huhu.. so we ordered our foods.. me, myself ordered a hot spicy tomyam.. wow!! delicious woo... so here are some pics of our menu today for lunch....
a'ah.. that's not the only thing we did.. guess what?? we did do the feeding fishes thing... the fishes were so big and huge..
Wahai ikan kaloi.. timbullah engkau... ahaks..
then, we took oursleves to the main entrance of Thailand where people used to go shopping there.. although there were too many goods sold there but still none had really captured my eyes to buy them.. but still, i really liked a cap sold at one of the stalls there... but of course im not going to spend my money on that stupid looking cap.. i rather spend my money and go to do facial treatment,,, huhu..
*metrosexual*
luckily, my mom took both of us, me and bro to Al-Waha Facial Treatment Center to do some facial treatments... hehhe... it was tough because when all my pimples were being picit by the kakak, it was so hurt till i felt like to cry.. huhu...
(area T-Zone.. xcaya try picit snirik)
but still, i did enjoyed my time there...
(kat facial treatment center tu)
abis muka aku bengkak sbb bekas picit jerawat... huhu... xmau p dh..
conclusion is, Thailand sgt panas, dan saya tamau p dh... i rather be in Bangkok instead of Danok..
◄ Older posts
Newer posts ►
who cares;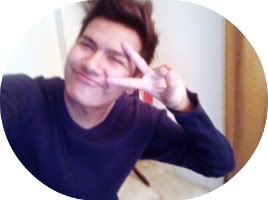 FOLLOW THIS BLOG!!


Hello I'm Irfan, 20, standing at 1.7m tall. Pretty random (I do what I want >:]) more?
Tell me!
They're SO HOT
Average Jane
Syafiq
The Fuschia
Colour Lovers
The Brick House
Apartment Therapy
Oppa
who made you king of anything?