.
8 things about me..
erk?? wawa tagged me... i was clueless when she 1st ym me and told "ipan, ang kena tag!! p tgk page aku.." ouh ok.. fine... im going to do it now ok?? but im going to make it simple and short unlike what wawa did ok?? this tag looks like writing ur biodata jek... u can do either long or short...
1. my name for sure is.. Noor Irfan bin Kamaludin... haha.. currently living in taman nuri, alor star Kedah...
2. im turning 18 this year on 13th day of 12th month of our year... understood me??if not, find a life!!!
3.currently jobless
4.love musics, love to sing, love to dance... haha.. wth??
5.love to day dreaming.. (want to be rich one day!!)
6.found new hobbies-blogging,reading novels (not love story)and etc...
7.an easy out going person...
8.love to love and be loved...
huh?? enough for you?? ahaks... so this tag goes to( if xnak wat pn xpe)....
-Chom
-Amiirah(kesian dia la.. asek kena ja)
-sis Farah
-Sis Syari
-Cott
-Khaty
-Syarifah (ni ja kot??) for those yg xkena tag... no had feelings ok?? next time i'll tag u guys (in case i got tagged again la.. hihiih)
◄ Older posts
Newer posts ►
who cares;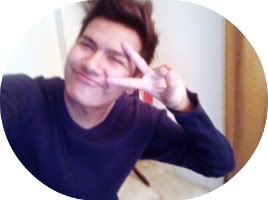 FOLLOW THIS BLOG!!


Hello I'm Irfan, 20, standing at 1.7m tall. Pretty random (I do what I want >:]) more?
Tell me!
They're SO HOT
Average Jane
Syafiq
The Fuschia
Colour Lovers
The Brick House
Apartment Therapy
Oppa
who made you king of anything?