.
again??!!
1) Name of a person who made you laugh last night?
My Mummy

2) What were you doing at 0800?
packing my bags

3) What were you doing 30 minutes ago?
on the way back to my home??

4) What happened to you in 2006?
my bday

5) What was the last thing you said out loud?
tadak pon

6) How many beverages did you have today?
hmm... tak terkira..

7) What colour is your hairbrush?
brown+white

8) What was the last thing you paid for?
my ferrero rocher.. rm24.90

9) Where were you last night?
at langkawi watching The Jungle wallah konsert!! blast!!

10) What color is your front door?
green

11) Where do you keep your change?
Wallet

12) What's the weather like today?
ujan

13) What's the best ice-cream flavour?
chocolate chips

14) What excites you?
exciting things

15) Do you want to cut your hair?
nak sgt2.. dh kasaq

16) Are you over the age of 25?
sy masih blom tua

17) Do you talk a lot?
often but depends

18) Do you watch the O. C.?
tgk kdg2

19) Do you know anyone named Steven?
-steven spielberg.

20) Do you make up your own words?
- Yes ..

21) Are you a jealous person?
in a gud way

22) Name a friend whose name starts with the letter 'A'.
Adzle.

23) Name a friend whose name starts with the letter 'K'.
khalil.

24) Who's the first person on your received call list?
Faziela

25) What does the last text message you received say?
dh delete tp dr naim

26) Do you chew on your straw?
not always

27) Do you have curly hair?
No

28) Where's the next place you're going to?
kitchen.. nk cr mknn

.29) Who's the rudest person in your life?
biarlah rahsia

30) What was the last thing you ate?
sausage bread

31) Will you get married in the future?
-of coz.

32) What's the best movie you've seen in the past 2 weeks?
Resident Evil

33) Is there anyone you like right now?
-Yes.

34) When was the last time you did the dishes?
masa kecik2 dlu... hahahah

35) Are you currently depressed?
sket2

36) Did you cry today?
No.

37) Why did you answer and post this?
for fun and because nqb tagged me...

and this tag goes to...
chom
wani frens of chom
semua yg ada dlm frens list ku

◄ Older posts
Newer posts ►
who cares;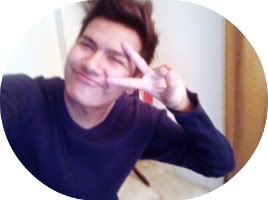 FOLLOW THIS BLOG!!


Hello I'm Irfan, 20, standing at 1.7m tall. Pretty random (I do what I want >:]) more?
Tell me!
They're SO HOT
Average Jane
Syafiq
The Fuschia
Colour Lovers
The Brick House
Apartment Therapy
Oppa
who made you king of anything?