.
Entrecard competition
so, i visited sis syari's blog yesterday.. Due to her nocturnal entrecard dropping, she's having quite some e-card credits. Thus she would like to make a little competition where she can spend my credits on. and i think that, why shouldn't i try kan?? mana taw my luck....keh3...
it is hard for me to find a picture that looks enthusiastic.. and i found this one.. i want to use this picture for the competition... hehehe.... wish me luck!! and do vote for me... my number is 06401... keh3... ouh,,, forget to describe this picture laa...
ok.. this picture was taken at one of the 'dusun' yg ade kt perlis... thank you to teacher noni i could get my ass out of the college... huh?? if not, i'll die there!! hahaha... well, i think this picture related to the theme "Celebrating Life' because the moment we're there... we enjoyed ourselves so much!! we played hard, we sang hard, and we live the life to the fullest la that time... it's really a heart-catching moment la... huh... (got no word to say la.. )
◄ Older posts
Newer posts ►
who cares;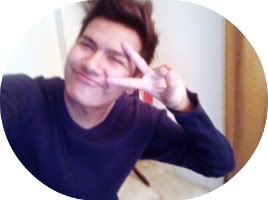 FOLLOW THIS BLOG!!


Hello I'm Irfan, 20, standing at 1.7m tall. Pretty random (I do what I want >:]) more?
Tell me!
They're SO HOT
Average Jane
Syafiq
The Fuschia
Colour Lovers
The Brick House
Apartment Therapy
Oppa
who made you king of anything?