.
resembling all the good memories
today, few of my frens came to my house... i was shocked when suddenly my mom shouted and....
mak : epan, bagun!! naim nak mai satgy...
me : ha??!! apa dia??
mak : isk kamu xdengaq ka?? naim nak mai... * not 100% ly like this tp lebey kureng la*

me : dia xabaq apa pn kat cek??



mak : kamu kalo lena bunyi henset kt tepi pn ang xdgq..

.

me : *blurr*
i quickly picked my phone and looked through it... there were 3 missed calls which was totally from naim.. hehhe.. *sory* i didnt hear you... i took my towel and went to take my shower... bla3... half an hour later, i finished doing my make-up things * guy ways ok??*
and 15 minutes later, i heard noise came from the outside of my house and i knew that was surely naim and the gangs... i was a little bit shocked to see adib and nouq were with him too... i expect that it was naim alone.. hhihi.. wateva laa!! after ther ate their lunch (i guess) we went up straight to my room... naim wanted to use my laptop to check his upu and matrix while the other two were so being busy body..!! hehhe.. *kidding* while waiting for naim surfing his upu that kind of stuff, we chatted like we never see each other for 10 years!! i mean 10 years!! even my mom who tried to get her quick nap could not concentrate on her job... but it was ok la.. not a big deal at all...
back view of nuq,adib and naim while doing their *job*
we talked about my huge fight with naim which i had mentioned before... we laughed like crazy and only god and us (ops my mom) knew it... hehehhe... nothing unusual happened today actually except for the *kebisingan bunyi mercun* anyway, i wanted to take this opportunity to wish
Happy Chinese New Year
to my chinese frens :
zhi mei, sock jin, carmen, hui di, agnes, tan, jia lin, lyn mae, and wen ying... not to forget to all chinese!!!
hepy nu year ok??!! enjoy
◄ Older posts
Newer posts ►
who cares;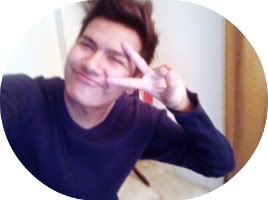 FOLLOW THIS BLOG!!


Hello I'm Irfan, 20, standing at 1.7m tall. Pretty random (I do what I want >:]) more?
Tell me!
They're SO HOT
Average Jane
Syafiq
The Fuschia
Colour Lovers
The Brick House
Apartment Therapy
Oppa
who made you king of anything?