.
should i be happy or wat?
today is the final day of my driving class.. i took both car and moto but i only managed to finish up the car training first for the whole 8 hours but 4 sure not in a day... i went training everyday in a row started from 12th of february until 21st of february which is today
( i skip class on 19th)!!!
i feel a little bit excited but shud i??
although the driving classes were done.. but still i have to sit for another test...
what the heck?? i thought that attending the 8 hours of driving training was already enough for me... and not to forget, i still have another 6 hours to settle up my motocrcle license... huh?? i mean.. who says jobless student graduated from mrsm is living happily ??huh?? cut that crap off!!!
so the QTi is expected to be on this Saturday but i still haven't prepared... i am scare of forgetting doing those important steps while handling of car..
-signals
-seatbelt( i forgot to put on the seatbelt and the teacher shouted at me!! blame me not.. as i said,, im not ready for the car ride yet.. lol hahaha)
-the checking stuff ( before we depart off)
-the naek bukit thing...
-the side parking (luckily, i am good at this)
so, i have another driving class this monday (for moto la)... and the QTi on this Sturday (as expected)... huh?? what i hope is ..1) i pass the QTi test... 2)the trainee wont be hard on me... 3)Saturday would me my lucky day!!!
◄ Older posts
Newer posts ►
who cares;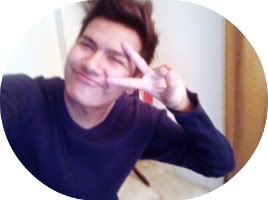 FOLLOW THIS BLOG!!


Hello I'm Irfan, 20, standing at 1.7m tall. Pretty random (I do what I want >:]) more?
Tell me!
They're SO HOT
Average Jane
Syafiq
The Fuschia
Colour Lovers
The Brick House
Apartment Therapy
Oppa
who made you king of anything?