.
trip to langkawi.. oh yeah!!
not in the mood of story telling.. hehehe... so last friday i went to langkawi for a vacation not vacation actually, it was actually to send my brother to the airport... huhu.. so we stayed at Langkapuri Beach Resort at Pantai Cenang but it wasnt a chalet.. just room.. so lucky us, the nite there was a live band performance.. it was blast... hehhee.. the mat salehs were dancing like crazy.. ( u know la kalo diorang menari cmne).. it was fun though... i could still remember they sang "Rasa Syang eh..", "joget pahang song", "Sway" and... erk.. i was kinda late so i missed several performance... hiihh.. (shuping la tyme tu) i did tried to upload the music video into You Tube but seems like cannot la..
try if u can open this.. hope boleyh....
and this is what i got for watching them performancing..
they are really beautiful because they glow in the dark.. i never see these things before so, i kinda being extra excited when first the lady gave these things to me.. i was like..
me: ape nie kakak??
kakak itu: tak taw ke??
me: *geleng kepala*
kakak: kalao u sambung menda nie bley jd rantai or gelang...
me: *mengangguk kefahaman* hahah.. thanx ye??
kakak: welcome.. menari taw!!
me: *sigh*
cth: look at my pergelangan tgn.. beautiful rite?? but these things are not lat lasting.. the day after the light will slowly became invisible.. huhu...
so, the day after, we went to the airport to send my brother back to Kuala Lumpur... there, there was a chocolate shop which offer
10%
of discount on Ferrero Rocher.. considering that the price at jetty would be cheaper.. i cancelled to buy them.. indeed, the price of Ferrero Rocher sold at jetty is much more expensive... waa!!!! kesian me... heheh.. so, my mom and i, we booked a 2.30pm ferry ticket.. while waiting for the clock indicates 2.30pm, we sat at a certain place which i dont know the real name of the place is but it is near the Dataran Lang... so, to overcome my boredom, i took a picture of the enormous Eagle facing the opposite from me.. hehe.. so, i only managed to capture the eagle's butt only...
p/s:what i could say about langkawi is...
-panaz
-best
-nk mai lagi
◄ Older posts
Newer posts ►
who cares;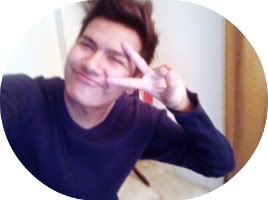 FOLLOW THIS BLOG!!


Hello I'm Irfan, 20, standing at 1.7m tall. Pretty random (I do what I want >:]) more?
Tell me!
They're SO HOT
Average Jane
Syafiq
The Fuschia
Colour Lovers
The Brick House
Apartment Therapy
Oppa
who made you king of anything?