.
i am sexy?? hmmm!! gosh~
assalamualaikum*
You Are Very Sexy


Damn! You are one hot number. You have a lot of sex appeal.

You know you're sexy, and you're not afraid to put it all out there.



And while you're very appealing, you're careful not to be trashy or over the top.

Sexy is all about attitude. And you totally have the attitude that people love.



How You Are Sexy



You are secure in social situations, and you definitely have a confident vibe. And that's very sexy.



Your modern look is sexy. You don't give people too much of the same old thing. You like to change it up.



You wear sexy underwear, and that's definitely hot. Feeling sexy is important to being sexy, even if no one knows what's underneath your clothes.



You are flirtatious and fun with most people. You know how to keep things light, friendly, and sexy.

what!! im sexy??!!! hahahahaha.. funny la this thing.. i neve felt sexy b4.. oh yes, i used to but now dh insaf!!~ ngehee~ wht so ever la!! hmm... good news for today.. i passed my QTI test(for motorcycle) hee~ i was so so so nervous at 1st.. tired of waiting for my turn, i went to toilet quite often~ cannot blame me.. im scare if the same incident ( kena test ngan jpj) happen again.. xmau melayang 15 ringgit...~ i can use the money to buy lot of things!! ouh yes, thats all.. till then.. chao!!

*peace*
◄ Older posts
Newer posts ►
who cares;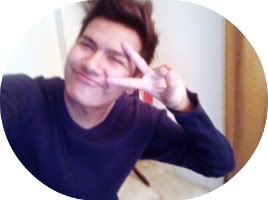 FOLLOW THIS BLOG!!


Hello I'm Irfan, 20, standing at 1.7m tall. Pretty random (I do what I want >:]) more?
Tell me!
They're SO HOT
Average Jane
Syafiq
The Fuschia
Colour Lovers
The Brick House
Apartment Therapy
Oppa
who made you king of anything?