.
karma spares no one
no more being frustrated!! still remember with my wishlist on my blog??
1.a persian cat
2.a new cellular phone
3.9A1 for my spm...
well, maybe it seems like i cant manage to get all of them.. but at least, i managed to
get two of them!! well, surely, my 3rd wish cannot be full filled anymore.. but, a persian cat and a new cellular?? huhu.. yes!!! i do get two of them... although my persian cat is not like others always have but still, i manage to keep one.. i mean my PARIS which i consider a persian cat although it is not.. hahaha!! well, i do have new cellular phone.. after keep on *bodek* my mom... and yes my mom agreed to trade in my old motorola V3X with nokia 6120... but surely, by my own money.. well, after all.. i dun care spending my money on things which i can use for life time.. (if i take a gud care of them) hahaha.. i like my new cell phone although it is not as canggih as other nokia phone but at least a camera (front and back).. hiks2.. and internal memory space of 1gb... heee!~ so friends!! KARMA SPARES NO ONE... when God takes away something for u, well, he is merely emptying ur hands for u to receive something much better!!!! *peace*
◄ Older posts
Newer posts ►
who cares;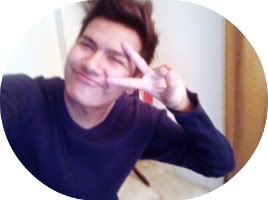 FOLLOW THIS BLOG!!


Hello I'm Irfan, 20, standing at 1.7m tall. Pretty random (I do what I want >:]) more?
Tell me!
They're SO HOT
Average Jane
Syafiq
The Fuschia
Colour Lovers
The Brick House
Apartment Therapy
Oppa
who made you king of anything?