.
first experience baking
assalamualaikum*
first of all... read the post title first.. this is my first time baking cookies.. i dont know what's wrong.. could be the recipe or it's just me that dont know how to cook.. waa...
(amii aku still bley masak makanan goreng2 ok?)
huhu... however,the cookies still tasted yummy!! heheheeheh... whatever happened, im not in the mood of writing... let the pictures do the talking....
first attempt:
look at the dough... i put too much margerine into it... that's why it's kind of '

lembik'

... err?


◄ Older posts
Newer posts ►
who cares;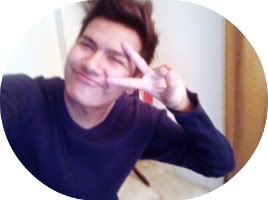 FOLLOW THIS BLOG!!


Hello I'm Irfan, 20, standing at 1.7m tall. Pretty random (I do what I want >:]) more?
Tell me!
They're SO HOT
Average Jane
Syafiq
The Fuschia
Colour Lovers
The Brick House
Apartment Therapy
Oppa
who made you king of anything?