.
happy teens day out~
assalamualaikum*
just came back home... again, i went out but not with AM and ELLy.. hee~ i went out with syafiqueva, Nas and Amyrule... we first met at mcD.. i was so suprised to see the 'layanan' from the workers... they are so so so friendly!! especially the '
kakak'
and the
'makcik'
... i got free drinks from the
'mak cik'
and syafiq was given free nuggets from the
'kakak'
.. erghh... i never thought that they can be so so wealthy.. hee~ may God bless both of u!! thanx for the free food and drinks!!
we went straight to the bowling center
(again)
... luckily
(i have the secret talent etceli)
, i won the game!
with marks 127 and 4 times strikes!!!
erghhh!!! uuuyeah!!! after we finished the game (that i won) hee~, we went to the karaoke box!!! yes,we sang like hell!!! but who cares?? we pay for that okay?? it is funny when i picked that the wrong song
(dokter cinta)
is not actually the song sang by the actual artist, it is actually a
lagu dangdut!!!
get me? hmm.. nevermind... clueless and speechless i had to sing eventhough i hardly know the song...
*hentam saja la!!*
after the
" vocal training session"
, our stomach suddenly sang the rhythm of Pop YehYeh
(hungry)
, hee~ so we went to
Pak Hainan
(which is the nearest restaurant)
since we were so tired singing!!~ i ordered Pak Hainan Noodles which is not so delicious (tp abeh jugak) huhu... while waiting for everyone to finish the dishes, we still managed to do some 'gedik2' actions.. hua3....
nas... TIDAK!!!!!!



full, we head to the car park to take ride with che nouq( malas jalan etceli) and went to SAHC..
syafiq(the awkward) and me*
at 4.30-ish, my mom picked me and i went home... ouh yes, i have jpj test tomrrow for motorcycle.. all the best to me and my mom!!!! wish us luck!!!
◄ Older posts
Newer posts ►
who cares;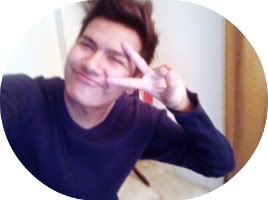 FOLLOW THIS BLOG!!


Hello I'm Irfan, 20, standing at 1.7m tall. Pretty random (I do what I want >:]) more?
Tell me!
They're SO HOT
Average Jane
Syafiq
The Fuschia
Colour Lovers
The Brick House
Apartment Therapy
Oppa
who made you king of anything?