.
hepy belated birthday USNA and AFIQ!!
bday girl... cute??!! no lah!!
Venue : KFC Jalan Stadium
Time : 12.00pm
i had fun today.. and i enjoyed my day so much!!! we celebrated
(husna and afiq)

's
birthday
(it is actually a belated birthday)
.. it was fun since everyone seems like to be able to attend the event except for Faiz... what i like about birthday party is-we could have fun together with friends and laugh out LOud like there is no tomorrow!!! hehehe... and i
love
CAKES so so much especially
Chocalate Moist Cake.
. fortunately,
Husna
bought us Choc Cake!! loved it...
marvellous!!! :p



delicious



naqib ate a lot today!! i mean, really
A LOT!!
more than what i ate... he used to be the one to take meal in small amount unlike me.. hehehe... lucky me, he'll get
BIGGER
than me... hahahaha..
*sorry naqib*
lwk saja lah...
(couldn't help my self)
hahaha... huh!! sadly, naqib
defeated
me this time.. its ok.. everything in this world has its up and down... right??!! hehehe... but nevermind, our points
didn't differ
very much... huhu... and yes
(again)
BELL kalah lagikkkk!!!!! hahahaha
*maaf ye bell?*


HUSNA and AFIQ!!!
td kan semua tersipu2 nk nyanyi kt hang... so let me sing for u (
artis nk nyanyi neh)
hahaha.. ehem2... let me do the bubbling thing first okay??!!! blurbbbb3x...
Hepy

birthday

to

U

(2X)
ePY

BiRTHDaY

To

uSNa and AFIQ

..
epy birhtday to u guys!!!
◄ Older posts
Newer posts ►
who cares;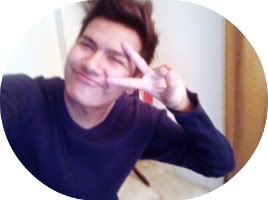 FOLLOW THIS BLOG!!


Hello I'm Irfan, 20, standing at 1.7m tall. Pretty random (I do what I want >:]) more?
Tell me!
They're SO HOT
Average Jane
Syafiq
The Fuschia
Colour Lovers
The Brick House
Apartment Therapy
Oppa
who made you king of anything?