.
a journey to remember
assalamualaikum*
how do i start? ermm.. to make it simple and short.. i went to Beseri this morning.. ouh yes, i didnt go there alone but i was accompanied by three other chicks which are ADiLeen a.K.a bouncer.. hee~nabila and hakimah(mjsc langkawi students) obviusly, they went there for other purpose.. unlike me, they went there to meet their beloved EX hea when they were in Langkawi.. well, girls, we
(the beserian)
stole him!!! hahaha *joking*..
we departed at 8.30-ish.. the journey was bored but still, i enjoyed it so much since i could recall my memories in beseri.. miss BESERI so so much!! i called wawa..
me : woi!!! jd ka x?
wawa : (with husky low pitch voice) ha??!! angpa p dlu la.. aku tidoq nie...
me :
!!?
what's wrong with this
"anak dara"
(girl)???!!
wawa : jmpa kt KFC la eh.. ok bye..
me : isk!! ok bye~
point to be stressed out here is-WAWA, why wake up so
"EARLY"
.. its 9 already.. aiyok.. but nevermind, i used to wake up at 11-ish.. hehehe... well, bujang la katakan.. ngee~
we reached "maktab" at 10-ish..as we stepped out of the cab, we (adileen and me) were stoned a moment!! WHAT!!???!!
me : wey, ustaz yusri tgh makan kt kafe la!!
adileen : tu lah...aku xpkai stoking nie.. huhu
hahaha.. we laughed and keep on laughing when adileen said that till we reached the
"pondok pak guard"
... we greet the "PAK CIKs" and signed into the guest book.. (we're no longer BESERIAN~)... we went up straight to the administration room.. ouh did i tell u that we , i mean adileen and her friends stopped kt toilet but i decided to keep walking because i hate waiting without doing anything.. so, i dumped into few juniors
(the form 1)
, ermm.. they are extremely good and polite, they wished
"Assalamualaikum"
to me and surely as a muslim answering 'salam' is wajib kan??
"waalaikumussalam"
...well, the juniors are all ketot and cute not including the form 5
(current)
.. hahaa
continued my walk, and i rushed to the office to eschew from seeing any techers, im not ready for the
'keramat' question
-
"irfan, how's ur result?"
no no no... im not ready.. nevermind.. went into the office and asked the clerk
(new one)
where is PENGETUA? (pointing her hand to the room)-tu dia dlm tu.. hahaha!!
knock the door-
Assalamualaikum
cikgu... i was nervous( dont know why).. and shit!! i almost fell down when i accidentally stepped on the smooth floor with my sandals.. haha.. lucky me, no one noticed that including mr.PENGETUA... hehe.. we had a long chat with mr.PENGETUA when another 'rombongan' arrived and make the room looks small and sesak.. ngahahaa... i think i wrote too long la.. better make it short..haha
we went to the staff room and do the 'salam2' thing with all the teachers.. there are few new looks there, it's not that im snob or what. but the new looks didnt show the great looks which all of us wanted to see.. they, turned their head over when they saw we were about to go to the direction that lead to them.. haihz.. (we're students la!! no need to afraid) but there is one cikgu (new one).. dont know his name, but he's quite good la.. we talked along with cikgu hafizi(previous warden).. luck cikgu hafizi, he got new cliche that he can speak with(kelantanese) from the way the cikgu (new one) talks, everyone shud know, he's from the east side of peninsular malaysia.. hahaha...
and yes, we managed to snap with the new arca as i posted before but that was without us.. hee!!~ majulah batch 22!!
im the only bug surrounded by flowers
(tahi ayam but still beautiful eh)
.. hahaha..*joking* and yes, we did got our new MEGA magazines.. cantik, style, striking.. fuh!! thanx megarians for all the hardships since u put a lot of my pics inside.. hahaha... thanx again...
haihz... this post is so long la.. never in my life writing post like this long.. maybe the mood was in.. thanx to the teachers for the support... a long chat with teacher intan made me confuse whether to further with matriculation or just go on with TESL if the offer comes.. haihz.. dont know what is exactly the right choice to be the answer of your question.. i'll think it deeply!! well, till then, c ya!!
*peace*
◄ Older posts
Newer posts ►
who cares;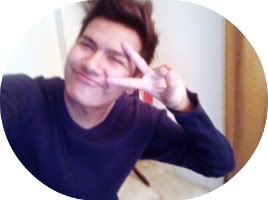 FOLLOW THIS BLOG!!


Hello I'm Irfan, 20, standing at 1.7m tall. Pretty random (I do what I want >:]) more?
Tell me!
They're SO HOT
Average Jane
Syafiq
The Fuschia
Colour Lovers
The Brick House
Apartment Therapy
Oppa
who made you king of anything?