.
jpj? beres!!
assalamualaikum*
today, i had my 2nd jpj test.. and thank God i passed this time.. no women testers, all men!! thank God .. i cudnt remember my tester's name but he's kinda good and nice to me.. ape yg pelik is...
tester : dok tmn nuri kan?
saya : yup!!
tester : knai x khairil muhaimin?
saya : errr? *kebingungan*
tester : khairl muhaimin.... knai x?
saya : bdk ksah ka? knai kot?
tester : tp dia taun 87...
saya : dlm hati (awat tny aku??) haihz... kalo taun 87, xknai laa...
tester : ouh ok... nie tgk depan!! aku pangkah bru taw
saya : *clueless* ok!! hahahahhaa
but its ok.. he was just trying to make joke kot? to bring laughter to the situation.. well, at least xdela diam sja in the car... hahah!!!
*peace*
◄ Older posts
Newer posts ►
who cares;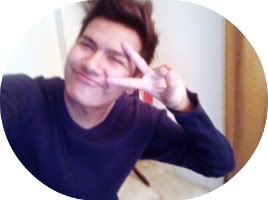 FOLLOW THIS BLOG!!


Hello I'm Irfan, 20, standing at 1.7m tall. Pretty random (I do what I want >:]) more?
Tell me!
They're SO HOT
Average Jane
Syafiq
The Fuschia
Colour Lovers
The Brick House
Apartment Therapy
Oppa
who made you king of anything?