.
ops...
assalamualaikum*
i went out today... with am and elly... supposed to meet at mcD at 12 but it turned to be 1pm until AM arrived.. isk... im the 1st one to be there so, i was quite mad with both if them... nevermind.. but what the most embarrassing thing happened to me today is.. i, somehow could not see the glass door at the entrance to mcD... i walked like there was no door in front of me... the result is... i bumped my face on the door and left my faceprint on the door!! luckily, there were not too many people there... but still, they're watching... *malu*
we first hit the kfc t since i've been 'kempunan'
Kentucky Fried Chicken
since yesterday... i like the whipped potatoes and cheezy wedges... nyummy!! we sat there until 3pm i guess and went back to City Plaza and played bowling... today was not a very lucky day for me i think...
-kena tggu lama before my friends came
-langgar pintu kt public
-kalah bowling
haihz... maybe this is not my day... heee~ but i also celebrate my mom's birthday.. we didn't have party as Kak Farah did for daughter... we (abah mak and me) only go to Medan Selera near the PKNK and ordered NyiNyong( type of mee) .. we also ordered satay perut and chicken... i like the satay perut more compared to chicken satay.. i guess that's all for now.. kind of tired... need to go take my comfort sleep.. daa~ c ya!!
◄ Older posts
Newer posts ►
who cares;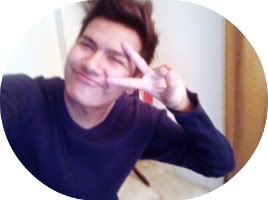 FOLLOW THIS BLOG!!


Hello I'm Irfan, 20, standing at 1.7m tall. Pretty random (I do what I want >:]) more?
Tell me!
They're SO HOT
Average Jane
Syafiq
The Fuschia
Colour Lovers
The Brick House
Apartment Therapy
Oppa
who made you king of anything?