.
dadadada~
last day at home...
enjoy myself so much!!!
went out today and i only get back home at 10.30pm!!! (malam okeyh)
we went to arizona pizza restaurant.. sorry, no pics to show.. but all i can say is..
the pizzas are marvelllouss!!! i really meant what i say ...
tomorrow will be going to mtrix which means, no more internet, no more insomnia, no more tv and stufff.. only books will accompany my days!!!!
hahaha.. i dun care much...
hope that i'll become one of the top students there...amiin~ wish me luck kayh!!!
to those yg pegi form 6.. gd luck jugak!!!!! yg dpt jpa, gud luck jugak.. in a nutshell, all da best lah to all!!!!!
haha... daaa~
◄ Older posts
Newer posts ►
who cares;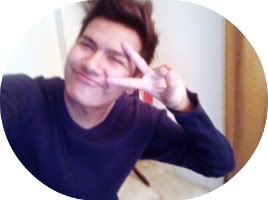 FOLLOW THIS BLOG!!


Hello I'm Irfan, 20, standing at 1.7m tall. Pretty random (I do what I want >:]) more?
Tell me!
They're SO HOT
Average Jane
Syafiq
The Fuschia
Colour Lovers
The Brick House
Apartment Therapy
Oppa
who made you king of anything?