.
fight? lg skali?
i had fight with my friends
(again)
... what ever..
huh... i can consider that this month is the most stressful month among all... we fight because of stupid things... at first, i didnt really mind but when he said those bad things about me.. huhu.. i just could not stand it...
we
(three of us-names not to be mentioned)
we talked well at first, when suddenly, i
(stupid me)
came out with the stupid idea of inviting the other friend to join us at yahoo messenger conference.. we started to fight.. and yes, the A said that i am EMO.. and hey!!
who cares if i am emo or not?? maybe this is not what we call emo!! this is what i
(personally)
call human sensitivty.. u know, everyone has their limit right?? huh... so, dont think im quiet means im cool which in other way means im not mad!! my heart's boiling... huh!!
i took A stupid action... huH! its my own business actually.. yes, it is mine!! dont bother yeah? i've deleted them on my friend list at myspace... and friendster is yet to go.. maybe tomorrow.. not in mood.. maybe after i get cool down and could think rasionally...
whatever~ huh.. i dont want to fight with friends anymore since i know that if this case continue continuously, i'll lost all my friends.. so, im going to stop my chatting activities for temporary.. hik2.. i'll be invisible all the time everytime i sign in into my yahoo messsenger account.. soryy!! i'll buzz u if i have something to talk... or u just buzz me if u GOT something really IMPORTANT for me to know... heh... again!! im sorry!!!!
◄ Older posts
Newer posts ►
who cares;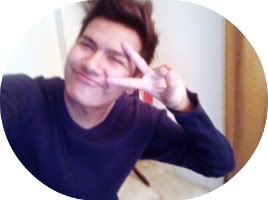 FOLLOW THIS BLOG!!


Hello I'm Irfan, 20, standing at 1.7m tall. Pretty random (I do what I want >:]) more?
Tell me!
They're SO HOT
Average Jane
Syafiq
The Fuschia
Colour Lovers
The Brick House
Apartment Therapy
Oppa
who made you king of anything?