.
i am sad
assalamualaikum*
i'm feeling
sad
and
down
currently... i didn't get the offer for upu... huh!!!!!! all my friends seems to get the offer but unlikely, i didn't get it... why? kenapa? mengapa? por que? wei shi me?
ANSWER ME..
but after all, i am grateful. i must be thankful since i still got other way to further my study which is at MATRIK... lots of spm 2007 leavers
( as far as i know lah)
many of them crave to be placed in matrix penang.. even one of my friends with a quite excellent result didn't get the matrik she wished for... as the matter of fact, she was placed at somewhere which i'm sure she doesn't want to go... poor her.. but this is all based on luck and fates..
talked to mek just now.. talking to her made me realize how lucky i am right now... just imagine, lots of spm leavers are still dunno where to further their study... even one of my friends
(name not to be mentioned here)
didnt get both matik and upu.. i am so pity of him but all i can do is pray for his future.. there's lot more to be ventured.. this is not the end... be strong and life must go on dude!!! hik
( sembang mcm aku stylo jek)
hahaha
and yes, before i forgot to mention, my best friend-
NAIM
, he lost his grandpa last night at 8pm i think
(seems the covergae is low)
.. marilah sama2 kita sedekahkan
AL-FATIHAH
to his grandpa.. may ALLAH bless his soul and place him among other solehs...
i am so damn bored and hungry right now... couldn't eat since i'm on my
diet planning
... hehehe~ i measured my weight last tuesday... shocked with the result, i came out with this idea to diet.. hehehe... don't laugh.. but i don't want to be called overweight or simply called obese.. huh.. no offense everyone.. hik3.. i am so sleepy right now... going to sleep.. da~zzzzzzZZZZZzzzZZ
◄ Older posts
Newer posts ►
who cares;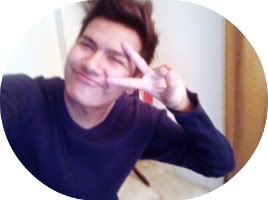 FOLLOW THIS BLOG!!


Hello I'm Irfan, 20, standing at 1.7m tall. Pretty random (I do what I want >:]) more?
Tell me!
They're SO HOT
Average Jane
Syafiq
The Fuschia
Colour Lovers
The Brick House
Apartment Therapy
Oppa
who made you king of anything?