.
new place new slang
wah... it had been a while since i last logged in into my blogger account.. seriously, i don't know how to start my writing and what to tell u guys about my new2nd home.. hehe.. ok then, i'll start from the 1st day i stepped my feet on mtrix penang...
kt sana byk org selatan dan pantai timur.. so, kalo ckp bhs kedah neh mmg diorg xphm... i did try to change my slang but i feel awkward lah to speak in other slang...ouh yes, the orientation week was a blast!!! even we had to have our assembly only on the floor with the hotness of the sun memancar ke muka ku yg
'puteh'
ini so that dia bertambah
'puteh'
..
sengal!!!
unlike my previous school in which the assembly was held dlm dewan yg
berdingin HAWA
... heheh.. not to forget, we also had to dance the
'pocho-pocho'
dance along with
'chicken dance'
.. sounds silly and childish but it was enjoyable!!! the thing that reminds me of beseri is-my prakticum or simply known as class ada 7 org laki sahaja.. but still, guys over there x seskema bdk2 beseri yg dolu yg malu2 dan kontrol.. sumanyaa brani bercakap...
my only problem with kmpp and the orientation week is- time management... tersgtlaaa xlogik!!!subuh kt surau adalah compulsory but still, i never went to the surau... hehhee.,. *lazy me.. but still, aku smyg okeh?
ada lg 1 ketidakpuasan hatiku terhadap abg fasi seorang itu or shud i say fasi mcm
*tut*
...
i was punished for turning up late for '
senam aerobik'
session... ok, im happy with my body, shud i care more or less with my weight? nope!!!! ada kaa ptut dia suro golek2 atas padang pehtu wat aksi gimnastik? xpatot... and what made me laugh even more is, bob pn kena jugak!!!! couldn't imagine how he did the 'golek2' thing atas rumput... aku dh cop
SIRIM
dh abg fasi itu. *oppps
FASI YG MCM

*TUT*
itu....
other than those that i mentioned above, i think kmpp is great laa dear... the toilet is alright.. room is fine.. even the cafe is ok too... so, entering kmpp is not a bad decision for me..
. huh! i dont really know what to tell u right now...so, i'll just let the pictures do my talk
before dinner at 'DEWAN MILLENIUM'
dak2 h8p2.. a.k.a classmates laa gitewww
◄ Older posts
Newer posts ►
who cares;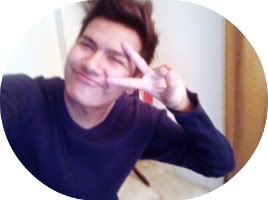 FOLLOW THIS BLOG!!


Hello I'm Irfan, 20, standing at 1.7m tall. Pretty random (I do what I want >:]) more?
Tell me!
They're SO HOT
Average Jane
Syafiq
The Fuschia
Colour Lovers
The Brick House
Apartment Therapy
Oppa
who made you king of anything?