.
bosan
what happen with the internet server this night? or should i say-
morning?
omg!!hehehe.. it's already 4:08am in the morning.. but as always, insomnia hit me again..
hmm... firstly, i would like to congratulate for those that got that mara thingy... tahniah!!! few of my classmates seems to manage to get the offer, and hey!! it's a good news for me.. a free treatment, maybe? hehehe
i'll be leaving home in a few days to come... i do feel sad.. but at the same time, i am excited... surely, i have to live without my laptop which became my very best friend since i left mrsm.. sorry, i have to leave u.. hik3.. (gedik btoi) let me sing sumtink laa...
KEN LEE
would do right mr laptop?? LOLS :D
i actually got nothing to write at this moment... a little bit blurr and yes, im hungry right now!!! hahaha... luckily, mom left me a chicken drumstick in the refrigerator which she bought at
pasar malam
last night... although it's cold as ice but still, i am hungry, so taste is the 2nd thing for my complain ... haha..
ok lah.. till later.. daa~
◄ Older posts
Newer posts ►
who cares;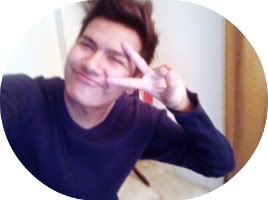 FOLLOW THIS BLOG!!


Hello I'm Irfan, 20, standing at 1.7m tall. Pretty random (I do what I want >:]) more?
Tell me!
They're SO HOT
Average Jane
Syafiq
The Fuschia
Colour Lovers
The Brick House
Apartment Therapy
Oppa
who made you king of anything?