.
easy method of giving birth
eaSY MeTHoD Of bIRth
a woman in Pak Pandir's village was giving birth to her first child. it was going to be a difficult and tough birth.. many hours passed as her relatives waited for the impending birth...the relatives began to get restless, so they sent for Pak Pandir..he ambled over carefully listened to their story and left.. after a few moments, he returned with a squeaky toy.. the relatives were bewildered .. one of them decided she had to know why he had brought such a toy.
"BECAUSE THE CHILD WILL HEAR THE SQUEAKY TOY AND WILL RUSH TO COME OUT AND PLAY"
replied Pak Pandir...
(the ideas came aftr a long long sleep)
hahahaha
so, just now, i texted Cikgu Ruzaini
(a beserian teacher teaching art)
and asked her about my decision of going on with diploma at only
UiTM
( i heard lots of people out there, they under rate uitm, i wonder why?)
..... well, at 1st, i thought she wouldn't agree with what i had decided, but it came out to be like...

"oh good irfan.. pls look things in a postivie way.. dun under rate Uitm, but evaluate urself.. if u r good, put u anywhere, u'll always outshine!!think wat is d best 4 urself k? miss u irfan"


#(mind u, she is very close to me as she is close to everyone else)



◄ Older posts
Newer posts ►
who cares;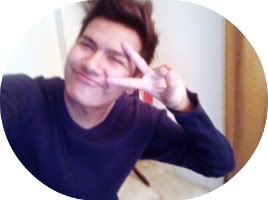 FOLLOW THIS BLOG!!


Hello I'm Irfan, 20, standing at 1.7m tall. Pretty random (I do what I want >:]) more?
Tell me!
They're SO HOT
Average Jane
Syafiq
The Fuschia
Colour Lovers
The Brick House
Apartment Therapy
Oppa
who made you king of anything?