.
two weeks in uitm
wow!! i couldn't believe this.. i'm now at home landing on my bed typing what i want to say... hahah!
so, i just finished my orientation week or simply called-
"Minggu Mesra Siswa (MMS)"
.. it had been a tough week all my life, even the orientation week during 'mrsm' is way better than this.. just imagine we had to wake up at 4 in the morning and we were only got the chance to sleep nearly at 2 am!!!!
2 hours
of sleeping everyday is very not a good way of life!!!
during the orientation week, we also had to play few games... since i had no intention of joining any of the games offered, i decided to only watch the futsal game... it was fun to hear people shout here and there but surely i hate this so much during lessons!!
not to complain more on uitm since i will be staying there for 3 years more
(insyaALLAH)
, so i have to change my mind... i have to love uitm.. i have to care for uitm.. hahahaha... sounds silly, but after the orientation week, i am ok with uitm.. no more problems, if yes, they mean nothing... heh
i was placed at 8th floor at my hostel known as
Kolej Zamrud
.. luckily, ada lif kt situ, if not, i'll be like Gisele Bundchen laa.. hahahaha.. and i think i am lucky to be placed at 8th floor, because you can have the picturesque view from there... and our floor is safe from Charlie's
(a type of bug)
attack, of course it is not 100% safe but the % for me
(or us?)
to be attacked by
cruel-mean
charlie is less than people staying at 7th floor and below
(as what the felo said lah)
view from my room- the campus...nice, is it? or not? heh

◄ Older posts
Newer posts ►
who cares;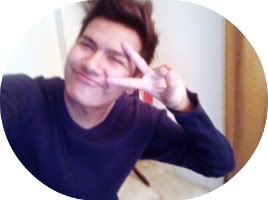 FOLLOW THIS BLOG!!


Hello I'm Irfan, 20, standing at 1.7m tall. Pretty random (I do what I want >:]) more?
Tell me!
They're SO HOT
Average Jane
Syafiq
The Fuschia
Colour Lovers
The Brick House
Apartment Therapy
Oppa
who made you king of anything?