.
friends
well, im still at home for sure or else, i won't be lying here on my bed typing on something kan?
hahaha.. i am bored. totally bored. most of my friends, they had left to their college or preferbably, their campus.. well, i should be at college now and have my most panas sleep there

(katil double decker n my bed's kt bwh so couldn't rs the wind from kipas siling)

. thanx to the election at permatang pauh, i am now attacked by insomnia.. pelik because never got this at college.. nak sgt2 stay-up but real lazy to do that. *sigh*
browsed through emellia's blog just now. yes, she missed her friends. but to tell you the truth, im not really missing my friends. why? because i kept their pictures inside my handphone so that i can go through their pics anytime i want to

( thanx mr 6120)

hahaha.=).. yes it is true, that we rarely talk to each other especially after my school time. it wasn't the same as it used to be. now, everyone is busy with their own matters, not like before, we shared everything. well to be exact, not everything lah.. heeee~
ok2, just now i could finally watched Konsert Gegar U!! and yes, ct was there!! she's now even more beautiful than before..

(emellia, aku still gila kt lgu sitiii)

... hahaha.. i am now so so in love with ct's song titled Debaran Cinta. although it was quite old for some of u guys, but maybe because of the lyrics kot, i like this song. hahaha! and not to forget, "Pendirianku" also by ct nurhaliza.. heee!
ok lah. nk titox.. don't want to look like panda tomorrow. nk shuping beli baju raya

(lagi)

. hahaha!
2 shirts and 1 levi's seems like not enough la. cuti seminggu kan? huh, nk berkonvoi raya taun neh.. jagalah umah2 anda sekalian.. akan ku srang. duit raya jgn lupa!

(posa pn blom lpas lg)

haha!
◄ Older posts
Newer posts ►
who cares;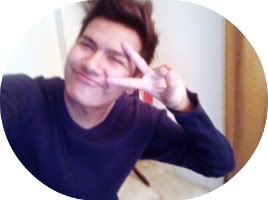 FOLLOW THIS BLOG!!


Hello I'm Irfan, 20, standing at 1.7m tall. Pretty random (I do what I want >:]) more?
Tell me!
They're SO HOT
Average Jane
Syafiq
The Fuschia
Colour Lovers
The Brick House
Apartment Therapy
Oppa
who made you king of anything?