.
let me whisper u sumtink =)
been watching Ghost Whisperer on 8tv from about 10.30pm till 11.30pm and continued to watch the same drama on Starworld till 12. ye la kan.. i can't do this anymore after this, i mean, as long as i stay in college lah. i dont really feel like to watch movie at bilik TV at my colleger since the place is too crowded with so many people to enter and enjoy the cooled air from air conditioner. yes, some also sleep! hahaha.
ok, maybe some of u had seen this drama but for those who never watched this, well... u should do so! it's a great drama to be watched and
luckily
is not rated 18 sx.. ngeng!!! hee~ i love Melinda's character in the movie. she is pretty. in fact she is a good actress!!! that Melinda is Jennifer Love Hewitt.. never heard of her? go and surf through the web lah. =)
hermmm.. seems like my preacious time has come to the end. i have to go back to college tomorrow. which means, no more relax2.. no more oversleep.. no more shopping (still i can do it on weekend).. no more movies.. huhuh... i am scared now sbb aku xstdy ape lgsg.. next week or supposely this week, there will be tests. huh.. all i can do now is tawakal sajalah. praying for the best even i am not worth it. whatever..
gtg now. have to continue watching Ghost Whisperer. tell you, i am so obsessed with this drama! what to do kan? layan jer lah.! =) *sigh*.. k lah.. bye sumaa.. salam!
◄ Older posts
Newer posts ►
who cares;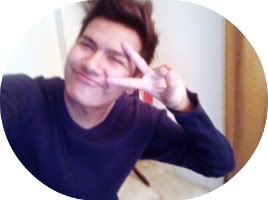 FOLLOW THIS BLOG!!


Hello I'm Irfan, 20, standing at 1.7m tall. Pretty random (I do what I want >:]) more?
Tell me!
They're SO HOT
Average Jane
Syafiq
The Fuschia
Colour Lovers
The Brick House
Apartment Therapy
Oppa
who made you king of anything?