.
xmau quit
after makin re-consideration, i have decided to not quitting blogging.. means, i'll still update my blog whenever i have time.
oh yes, last week, there was
'Sukan Antara Fakulti'
hold at my campus, yet i'm sure all uitm campus hold this event. it was fun to take part in this activity. but sadly, our faculty won nothing. even the 'kawad' also.
what make me sad was, we practiced day & night but luck was not on our side. we lost! since i only joined 'kawad' i'll only tell about 'kawad'. our program advisor, Cik Nur Siti Fadhilah told that, we lost because we didn't have enough participants. huh!!
" awatlaa hangpa2 sekalian yang len xmasuk kawad? kalo x, kita mng dh weh. nak aku wt red-carpet kaa nk jmput masuk?!"
mood= happy; i did enjoy myself by joining 'kawad' which everyone reluctant to join. because, i got to know new friends who i hardly speak to during the orientation week. hahaha! now that we can talk and make jokes to each other. not to forget, our trademark.
"farmasi in, FAR-MA-SI!!!" which was created by Faridah. credits to her!
[applause]
let me share some photos during the SAF week.
standing on my right is Faridah, crazy girl i met after BELL [beserian]
p/s: sory, i don't have much to share since i was real busy during that week. with quizzes and assignements to be done. am lucky to not having any assignments during holiday! hahahaha envy me, friends!
◄ Older posts
Newer posts ►
who cares;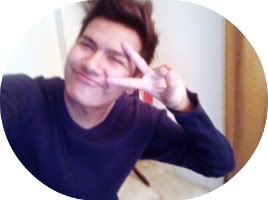 FOLLOW THIS BLOG!!


Hello I'm Irfan, 20, standing at 1.7m tall. Pretty random (I do what I want >:]) more?
Tell me!
They're SO HOT
Average Jane
Syafiq
The Fuschia
Colour Lovers
The Brick House
Apartment Therapy
Oppa
who made you king of anything?