.
charlie yg bengong! omg
salam.. Ramadhan has come. yeah! Selamat Menjalani Ibadah Puasa everyone.
hmm.. i hardly understood what Mdm Suraya taught us today. huh.. so as what Mdm Maryam taught. huhh... they talked like splinterS that beat world's best splinter! hahaha.. i am not happy at the moment as i was attacked by a bug so-called charlie.!. nak taw dak,,,,, for all other parts of my body, why on earth should the bug pick my face which leave me with 2 ugly scars.. sob!
tp, dont mind lah kan? sbb beauty lies in the eyes of the beholder, so, why should i be afraid kan? review on test 1.. my result was not as bad as thought. it was; a so-so lah.. =)
ICT-86%
Chemistry-21.5/30 [count snirik eh]
Maths-17/30 [malu.. waaa! at least i passed the passing marks]
that's all till now. still waiting for my Life Sciences and Pharmaceutics reasult to be out not very soon. pretty scare right now. seriously, i am scare till death sbb i didn't touch the lecture notes at all..
huh.. i don't feel like to write long since i still have many foods left on the dining table waiting for me to 'ngap' them! hahaha.. so, nk fergi duLu... tata!!!
◄ Older posts
Newer posts ►
who cares;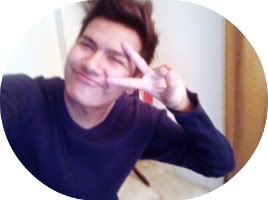 FOLLOW THIS BLOG!!


Hello I'm Irfan, 20, standing at 1.7m tall. Pretty random (I do what I want >:]) more?
Tell me!
They're SO HOT
Average Jane
Syafiq
The Fuschia
Colour Lovers
The Brick House
Apartment Therapy
Oppa
who made you king of anything?