.
raya
my celebration for raya this year was a blast! with the brown colour theme for every members of the family, what i could say is-i really enjoyed the celebration!
i've already subscribe for celcom broadband and it costed me (my mom) about 600+.. cheap kan?
hehe.
my duet ry collection is 100+ sgt seronok!. i got most of my duet ry kt mersink. thanx pakcik makcik ku sygi. hee~
i'll be going back to college today. haihh.. rs cm mls je nk pg.
siyesly, mls nk pgg buku.
assignment maths lom seap. nasib2.
hahaha
nk p seap2 dlu eh.
dan kerana blog ini sudah pvte, aku nk luah kan sgla yg aku smpan.
ekekek.
aritu wktu nk g mersink, jalan jem kt persimpangan masuk USIM.
huh! sebelah keta pak aku tu, keta mewah. aku pn usha2 drivernya.
alahai... HOT gilaaa!!!!!! seronot kalo dpt jd partner. tobat xcr yg len daaa..
ekekeke.. gtaai..
irfan2, bila laa hg nk dpt partner sowg ne? bila nk jd DUA?
HAHAHAHAH.. tggu la kalo ada jodoh.
huhU!
◄ Older posts
Newer posts ►
who cares;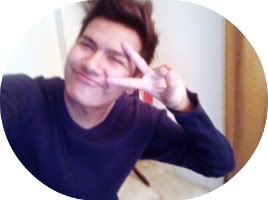 FOLLOW THIS BLOG!!


Hello I'm Irfan, 20, standing at 1.7m tall. Pretty random (I do what I want >:]) more?
Tell me!
They're SO HOT
Average Jane
Syafiq
The Fuschia
Colour Lovers
The Brick House
Apartment Therapy
Oppa
who made you king of anything?