.
boling is not my cup of tea
salam.
i just realised few things todaywhich are-
i am

so-not

a good communicator to new people i met!
i am not good in bowling. but someone is far not good than me

i am Noor Irfan b Kamaludin and i cannot change who i am.

sekian.

ahahaha.
thanks to arif farhan for fetching me up today, although i didn't pay him a cent. sory (= tapi hang menang boling kan? kira rahmat la tu. hihi
i am so happy at the moment because i have two friends of mine to accompany me at home. surprisingly, we cooked tonight! yes, we do cooked tonight. hahaa! kami masak ayam goreng+telor dan nasik. yes, nasik.
(which i don't really know how to cook before, seriously)
tired. signing off. daa~
◄ Older posts
Newer posts ►
who cares;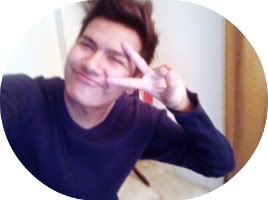 FOLLOW THIS BLOG!!


Hello I'm Irfan, 20, standing at 1.7m tall. Pretty random (I do what I want >:]) more?
Tell me!
They're SO HOT
Average Jane
Syafiq
The Fuschia
Colour Lovers
The Brick House
Apartment Therapy
Oppa
who made you king of anything?