.
epy besday to me.
how do i start this post?huh let me sing dulu lah.everyone who knows me knows how good am i in singing
(bragging gile)
lolx.
Selamat Hari Jadi




Selamat Hari Jadi




Selamat Hari Jadi epan.




Selamat Hari Jadi.. =)



okey.. i am now officially 18 years old.sweet 18.=)
this means, i may now go clubbing.
(berangan)
,
i may now watched 18sx movies.
i may now have a lover.
( what a stupid wish?)
i don't feel old. yet, i don't feel younger.
haha. i feel like nothing changed.
still, i am feeling quite sad right now because i'll be celebrating my birthday alone.
yes, alone.=(
but never mind because i'll claim back my money right after they come back home.
i'll order another Pizza only for me. and i'll sing the birthday song to myself.
oh,not to forget, million thanks to those who'd wished me. terharuuu!
the first person to wish me birthday wished me 2 days before my birth day. sangat laa sistematik. wakakak! tengss.
=_"
may Allah bless me, you and US.!

◄ Older posts
Newer posts ►
who cares;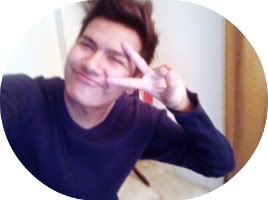 FOLLOW THIS BLOG!!


Hello I'm Irfan, 20, standing at 1.7m tall. Pretty random (I do what I want >:]) more?
Tell me!
They're SO HOT
Average Jane
Syafiq
The Fuschia
Colour Lovers
The Brick House
Apartment Therapy
Oppa
who made you king of anything?