.
jeles.hormon. BODOH!
ok2.
entry nie xberkaitan ngan sapa.
diam.
haha.
aku suka dia. ye. tp aku meluat dia.
aku meluat. bkn apa. tah laa . i dont have reason to hate that person.
jelous kot?
huh... please laaa. jauhkan cinta dari aku..
awal lagi nehhh.
aku xnak hormon2 aku digunakan untuk cinta...
mcm aku ckp tadi.. awal sgt. 18 baru kannn?
aku xnak jadi typical teenagers yg kena ad bf/gf untuk menunjuk2.
ceh! cinta monyet sumaa tu.. cayalahh. xtahan lamaaa pn.
(mungkin laa OIAM ada kot?)
iskk.. serius aku pening. aku runsing. dr aku dok syok trus kt dia. bek aku pkiaq menda len.
tp... menda paa aku nk pkiaq???? haihhh.
lgpn, aku sure dia xkan suka aku. orgnyee demand tggi. igt lagi 1st time ym ngan dia..
ahahaha.
ops. xleh expose, nnt dia prasan. bukan buleh kira.
post nie gilaaa. jangan baca pn xpa. oh blog. aku syg kau.
◄ Older posts
Newer posts ►
who cares;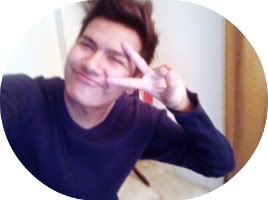 FOLLOW THIS BLOG!!


Hello I'm Irfan, 20, standing at 1.7m tall. Pretty random (I do what I want >:]) more?
Tell me!
They're SO HOT
Average Jane
Syafiq
The Fuschia
Colour Lovers
The Brick House
Apartment Therapy
Oppa
who made you king of anything?