.
Sayonara.
I attended naim's brother's wedding today. It was a blast and satisfying. Know what, me and mom managed to sit under the same tent with the bride and groom's family, so for me it was special because, firstly we were served with delicious food which were not served to others and secondly, only the groom's family knows us whereas the bride's side don't.
oh yes, naim's brother look unlikely like him His brother is way far slimmer than him, even his little brother is smaller than him.

*Naim, hg anak angkat kah?

hehehe (;
By the way, i've changed my blog's skin again. haha!

*rajen kan saye?

tepok sket. hahaha... holiday's melting down which means i have to go back to campus in penang and start to be a good student or at least, act like one. hehe
i am feeling lucky for not getting place in Zamrud because this means, less charlie's attacks and remarkable scars on my body part.

*sigh
and aku masih belum pilih kelas. haha! lantaklah dapat kelas mane pn, janji aku belajar.
p/s=sudah lama aku tidak emo kan?
◄ Older posts
Newer posts ►
who cares;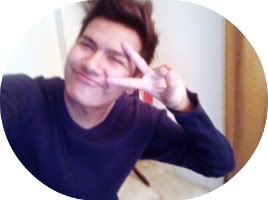 FOLLOW THIS BLOG!!


Hello I'm Irfan, 20, standing at 1.7m tall. Pretty random (I do what I want >:]) more?
Tell me!
They're SO HOT
Average Jane
Syafiq
The Fuschia
Colour Lovers
The Brick House
Apartment Therapy
Oppa
who made you king of anything?