.
smiley moon
salam!
(tetiba ja jd baek)
read pah's new entry and was suprised by her post! smiley moon? ngee~ i didnt have my camera with me just now. so i texted my friend and ask him to snap pictures of the moon! sgt menarekkk!
i think this phenomenon is one way of Allah
telling
showing us to be good to each other. wars should be stopped without any excuses!!
*terasa wat byk salah*
huh! i think i should i text my
foe
friend and tell her that im sorry!
◄ Older posts
Newer posts ►
who cares;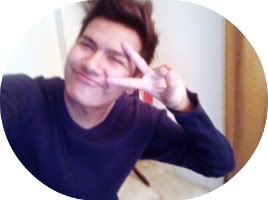 FOLLOW THIS BLOG!!


Hello I'm Irfan, 20, standing at 1.7m tall. Pretty random (I do what I want >:]) more?
Tell me!
They're SO HOT
Average Jane
Syafiq
The Fuschia
Colour Lovers
The Brick House
Apartment Therapy
Oppa
who made you king of anything?