.
mimpi atau angan2?
I skipped my English class yesterday due to my over-night activity for my Microbiology test. Thank God, I managed to answer. I had my very first peculiar assignment which my English lecturer told us to do, which is to dream! Yes, to dream and to tell what you dreamt. Well, this may sounds easy for some of you, but if you dream of something you don't wanna share with anyone else but you still have to tell the whole class about what you dreamt, isn't the situation bothers you??
Let me get to my point, just tell me, your dream and I'll talk about your dream, to my classmates. And what's good about my idea is, my classmates don't even know you? Isn't that better? ;DD
◄ Older posts
Newer posts ►
who cares;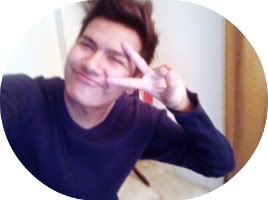 FOLLOW THIS BLOG!!


Hello I'm Irfan, 20, standing at 1.7m tall. Pretty random (I do what I want >:]) more?
Tell me!
They're SO HOT
Average Jane
Syafiq
The Fuschia
Colour Lovers
The Brick House
Apartment Therapy
Oppa
who made you king of anything?