.
pergi, dipergi, kau pergi tanpa pesan! aku ade?
Since the final exam is around the corner, I've made my decision to cut myself off from internet connection! yes, this is muktamad!
haha. Yalah, kalau internet nie xbergerak ke Alor Star, selagi tu korang akan nampak aku on9 setiap hari. hahaha. Kawan2 kelas pun dah tegur, bila hang study irfan?? huehhhh! aku study 15 minit, dan jam2 yang balance, aku on9 lah! gila kan?? tulah, internet is addictive, i must say.
so, kawan2, wish me luck and do contact me through phone. yang x ade? sabar je lah ek?
(bajet artis pulak)
mom's birthday is tomorrow. can't wait to have dinner at hotel! yayah! sungguh seronok. abg wan belanja. aku harus lah order yang mahal2 saja. hahahahah!
till then, daa~
p/s=msn rawks even rawker than ym!! add me.

earfunk@hotmail.com
◄ Older posts
Newer posts ►
who cares;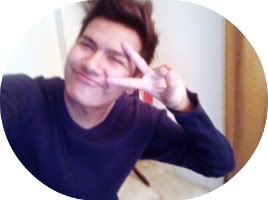 FOLLOW THIS BLOG!!


Hello I'm Irfan, 20, standing at 1.7m tall. Pretty random (I do what I want >:]) more?
Tell me!
They're SO HOT
Average Jane
Syafiq
The Fuschia
Colour Lovers
The Brick House
Apartment Therapy
Oppa
who made you king of anything?