.
Kawen? calon pn non ado
1. How old are you?
i'm 18 to be exact!
2. Are you single?
Until I'm married ;p
3. At what age do you think you'll get married?
Erm, depending on my career? haha
4. Do you think you'll be marrying the person you are with now?
I'm with who ?
5. If not, who do you want to marry?
Lambat lagi lah!
6. Who will be your bridesmaid or your bestman?
My bestfriend!
7. Do you want a garden/ beach or traditional wedding?
can i have combination of them?
8. Where do you plan to go for honeymoon?
Canada
9. How many guest do you think you'll invite?
Yang mampu datang. ;p
10. Will that include your exes?
Pernah ada ka?
11.How many layers of cake do you want?
Kek lapis? opss!
12. When do you want to get married? Morning or evening?
Tengah hari. orang rehat waktu keja boley makan free.
13. Name the song/tune you would like to play at your wedding?
Lagu2 Datuk Siti Nurhaliza
14. Do you prefer fine dining or just normal spoon/fork/ knife?
Makan Western Food nah nnt.
15. Champagne of red wine?
Sirap?
16. Honeymoon right after the wedding or days after the wedding?
lepas bercerai? aha
17. Money or household items?
Both!
18. How many kids would you like to have?
kalu anak baik2 aku beranak ramai~ kalu jahat aku bunuh sorang2~ huahuahuahua[ikot syafiq gak ah]
19. Will your record your honeymoon in DVD and CD?
Macam Pamela Anderson! hahaha
20. I want to know their wedding plan:
Nur Aminah, Chom,Mek, Azfarul
◄ Older posts
Newer posts ►
who cares;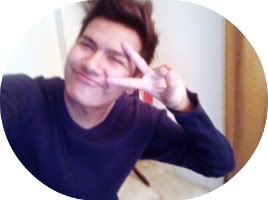 FOLLOW THIS BLOG!!


Hello I'm Irfan, 20, standing at 1.7m tall. Pretty random (I do what I want >:]) more?
Tell me!
They're SO HOT
Average Jane
Syafiq
The Fuschia
Colour Lovers
The Brick House
Apartment Therapy
Oppa
who made you king of anything?