.
I'm bored.so I update lah!
Haha
I've changed my layout ONCE again altogether with the url.Yeay me! :D
My raya was not as good s everyone else's. I just don't feel the lust this time. I have two more semesters before I proceed with my practical or degree. I really want to do fast trek,but the cgpa don't seem to help *sigh*. But I promise to my mom, I will try my best to do my best to get the best gpa ever this semester and of course for next semester as well :p
I gained weight a lot last raya! I need to cut down my meal a bit. It's not that I was skinny before,this is the matter of not getting fat! Hehehe. I am afraid to the fact that one day I am not able to shop like everyone else does.
Till then la kot?
◄ Older posts
Newer posts ►
who cares;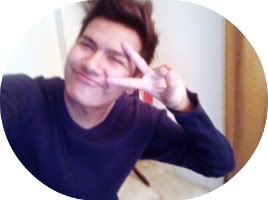 FOLLOW THIS BLOG!!


Hello I'm Irfan, 20, standing at 1.7m tall. Pretty random (I do what I want >:]) more?
Tell me!
They're SO HOT
Average Jane
Syafiq
The Fuschia
Colour Lovers
The Brick House
Apartment Therapy
Oppa
who made you king of anything?