.
true friend only comes once
So the thing is, I failed my PHR 215 subject with only 9.5/30! Yeay me kan? Sapa suruh tak study?
Mak,sorry for this.I promise I'll do better next time. ;)
I don't feel sad but I'm worried if I fail the next test.
Grrrrrrr!
Nauzubillah.
I went to Jusco Perda just now to accompany Ain to do her hair.We went to APT hair salon and seriously they're pros! Me love lah!
I want to keep my hair long till before semester break and then I want to highlight and trim my hair! uh,can't wait lah!
Naim's leaving to Mesir tonight! Going to miss him loads!!!! He is my best friend since we were in form 1. He's like my brother
sister
*ops*
because my mom treats him like her own son. We're so close that both of our families know each other :) No more hanging out together on weekend
(because I usually go back every weekend)
after this. And no more sleeping over and talk talk talk the whole night and only wake up at 12 the day tomorrow ;(
Oh Naim, if you're reading this.Please to know that I always pray for the best! Hopefully you'll be a good doctor one day. Please please and please don't you ever forget us over here! Please to keep in touch with us through Facebook or YM.
(Syukur aku tak buta IT).
◄ Older posts
Newer posts ►
who cares;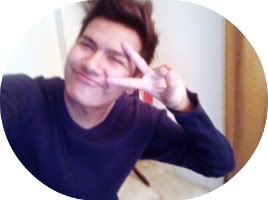 FOLLOW THIS BLOG!!


Hello I'm Irfan, 20, standing at 1.7m tall. Pretty random (I do what I want >:]) more?
Tell me!
They're SO HOT
Average Jane
Syafiq
The Fuschia
Colour Lovers
The Brick House
Apartment Therapy
Oppa
who made you king of anything?