.
the battle is over
and I'm glad it is ;)
I was home since the 15th Nov and I haven't step out from the house ever since. Anti-social kah aku? wtf lah aku nak malu malu ni. Hahaha.
Bosan gila! wtf kau merengek kat blog padahal kuar je lah kan ngan kawan-kawan. tak gittteww? T_T
Okey2. aku actually macam kena migrain. simptom dia xsama macam orang kena migrain tapi dia punya sakit. isk. berpusing-pusing barang2 dalam rumah. Nak jalan pun pikir 2-3 kali. T_T
Lama gilaaa babss tak hapdate blog. Bukan ape nok, mak busy banyak konsert nak kena pergi. Konsert Satu, Konsert Seribu Warna mana mak tak pegi? cuma konsert aritu kene cancel sebab PAS x kasi. mak seksi sangat katanyer. *petir
gigih tak mak hafal lirik lagu Balqis & Nirmala? *matilaa perasan
K lah anak-anak hayammm sekalian.. Beta beradu dulu *sujud sembah cepat! Hahaha. nite uolsss ;)
h


◄ Older posts
Newer posts ►
who cares;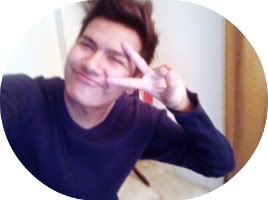 FOLLOW THIS BLOG!!


Hello I'm Irfan, 20, standing at 1.7m tall. Pretty random (I do what I want >:]) more?
Tell me!
They're SO HOT
Average Jane
Syafiq
The Fuschia
Colour Lovers
The Brick House
Apartment Therapy
Oppa
who made you king of anything?