.
First Attachment and me likess!
Today was my forst attachment in Unit Kesihatan UiTM Pulau Pinang. Gosh! It was fun dispensing drugs to the patients. Like seriously, I wasn't ready for anything. Lucky us, the sisters were being so nice to us especially Sister Banu. She explained to us about almost all the drugs there in pharmacy Unit Kesihatan. I just got to know that Piriton can actually be used for allergy instead of for flu itself.
Oh yes, there was this one case where one student from Faculty of Hotel Management I guess (since he's wearing the kitchen suit) got into an accident. There were bruises everywhere on his body. Part of the procedure is to disinfect the wounds. By using Hydrogen Peroxide, Sister Banu dipped in the cotton balls into the solution and cleaned the wound by using strong pressure on him! It was hurt since he screamed like Mariah Carey's doing her whistle register. Lol! Oh yes, Hydrogen Peroxide is used to kill anaerobic bacteria and if you're lucky to be witness of the process, after you rubbed on the H202 on your wound area, you could see there's this white colors of precipitation formed around the wound to indicate that wound is disinfected and is cleaned with Normal Saline solution right after.
I don't know why I typed a long post this time after not updating my blog for quite a long time. Maybe this is just what I love to do
(I mean the dispensing tasks and hopefully it won't be dispensing only LOL)
. I'm really hoping to see me one day wearing the lab coat and seat at the counter dispensing and counsel the patients on uses of the drugs. I really want to be a professional pharmacist.Amiin~
Latest pic of me. Saja gedik nak letak sekali. :P
◄ Older posts
Newer posts ►
who cares;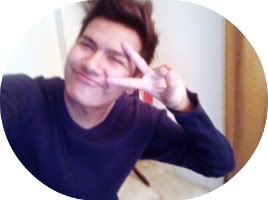 FOLLOW THIS BLOG!!


Hello I'm Irfan, 20, standing at 1.7m tall. Pretty random (I do what I want >:]) more?
Tell me!
They're SO HOT
Average Jane
Syafiq
The Fuschia
Colour Lovers
The Brick House
Apartment Therapy
Oppa
who made you king of anything?