.
Nama Pesakit
: N.I.K
Diagnosis
: Rambut warna cokelat perang.
Ubat Diambil
: Loreal Paris.
Kesan Sampingan
: -Mata tak boleh kelip
-Mulut tak berhenti mengumpat
Okay, ini tajuk assignment aku untuk hari ni. Patient ni sakit apa aku pun tataw tapi masih waras. Yang peliknya kan, kesan sampingan ini tak jadi kat patient ni pun. Sikit pun tak terjejas si patient ni tapi orang-orang sekeliling khususnya masyarakat veteran dan tak berpelajaran yang mengalami side effects ni. This is why I'm so interested to clerk case for this patient to investigate why people have to mind other's business. Dahla aku emo! Babai.
◄ Older posts
Newer posts ►
who cares;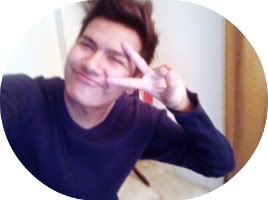 FOLLOW THIS BLOG!!


Hello I'm Irfan, 20, standing at 1.7m tall. Pretty random (I do what I want >:]) more?
Tell me!
They're SO HOT
Average Jane
Syafiq
The Fuschia
Colour Lovers
The Brick House
Apartment Therapy
Oppa
who made you king of anything?