.
Fried oreo? oh no. nak! *jaw drops*
ughhhh. Lately, selalu emo macam orang pregnant. Maybe kat tempat kerja selalu dikelilingi pesakit mengandung? *mintak simpang!* okay, takdak kaitan. HAAAA. HAAAA. HAAA.
Hari ini hari last attach dekat KK Datuk Kumbar. Okay, KK stands for Klinik Kesihatan. Baru bukak. So, banyak ibu mengandung saja!!!!! *tetiba emo.hormon masih tak betul.maaf * Abaikan. He He He.
So, plan kami nak buat jamuan esok di hospital. Untung badan ada kawan nak tolong buat chocolate cakes.
*Tahan ayaq liuq cepat!*
As I was browsing through the net, I found this wonderful blog which sells cakes and cookies. Here's the link -
Sheznie's Bakery
. Seriously, I had my jaw dropped with saliva coming out from the mouth
(tipu lagi)
when I opened the blog. The prices are ridiculously cheap! (tetiba rasa fedup sebab dok Kedah). he he he. *gelak tak ikhlas :P Takpe, lusa jugak aku terbang pergi KL beli sebab dapat coupon RM25!! :D yaaa RM 25 instead of having to pay RM 50!
Nak taw macam mana nak dapat kupon ituu??? Click saja link ni.
Kupon murah! :D
pastu klik button BUY kat tepi hujung kanan tu kaler merah. Mai tengok contoh-contoh kek di jual kat
Sheznie's Bakery
. :)
Fried Oreos *yummayh!
◄ Older posts
Newer posts ►
who cares;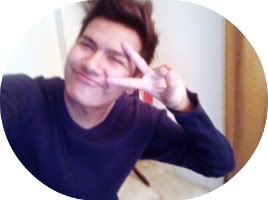 FOLLOW THIS BLOG!!


Hello I'm Irfan, 20, standing at 1.7m tall. Pretty random (I do what I want >:]) more?
Tell me!
They're SO HOT
Average Jane
Syafiq
The Fuschia
Colour Lovers
The Brick House
Apartment Therapy
Oppa
who made you king of anything?